Pediatric Private Nursing & In-Home Therapy
Pediatric private nursing and in-home therapy is a game-changer for parents and/or caregivers of a medically fragile child. It's natural for those who care for a child to desire to give them the best quality of life possible. This is magnified when a child has a complex medical condition. Worrying about a child's quality of health care, scheduling doctor appointments and therapy sessions can be intimidating and overwhelming. A great option to simplify these things is to have a pediatric private nurse and in-home therapy. This will reduce the number of times you'll be required to leave the house for medical reasons, and your child will remain as comfortable as possible.
ChildrenFirst Health Care System knows every child who has a complex medical condition requires a unique type of care and services. That's why they incorporated private nursing and in-home therapy into their services. The ultimate goal is to promote each child's maximum attainment of health through positive and nurturing care. This is achieved through transitional care from the hospital to their home, specialized neonatal care, around the clock at home nursing, and pediatric in-home therapy including Physical (PT), Occupational (OT), and Speech (ST or SLP).
Benefits of a Private Duty Nurse and In-Home Therapy
There are many benefits a medically complex child will receive from having a pediatric private nurse and in-home therapy. As a parent or caregiver of a child with a complex medical condition, there are so many things to deal with and think through. Removing some of the stress and having the right people by your side to help is key! The compassionate and experienced team at ChildrenFirst knows this can make the biggest difference in everyone's life. Here's some great benefits to private duty nursing and in-home therapy.
Around the clock care may be required.
For many children with a complex medical condition, 24/7 care is required. It's impossible to provide this type of care without becoming exhausted. Let's be honest, sometimes we all need extra hands. Your day may look a little like this… Getting everyone ready in the morning, followed by hospital/doctor/therapy visits, then finding time to make dinner,  oh, and help with school work, not to mention all the other activities that come with having kids (don't forget, many families have multiple children) and being a parent. Not only will you have an extra set of hands for your medically complex child, the help is of a skilled, trained, and experienced nurse. Having an RN or LPN that works closely with your doctor can be tremendously helpful and relieve so much stress from you as a care giver all while being in the comforts of home.
Proper rest is a must!
This is a big one, there are only so many hours in a day and along with caring for your child and other family members, you need proper rest. With the help of a pediatric private nurse there will be time left in the day for you to rest. Also, having in-home therapy will help to reduce the amount time spent getting and coming home from appointments. Since the therapy is done in the comfort of your own home, there is no drive time to and from the appointment.
From a child's perspective, having in-home care can be instrumental and beneficial on many levels.
Being at home where they are familiar and comfortable with their surroundings is huge for a medically complex child. Hospitals tend to feel cold and isolating to a child. The child may not understand what is going on, why they are there, and why they can't go home. Being at home gives them a level of comfort and security no hospital room can provide.
The number of germs a child is going to be exposed to goes down tremendously!
Hospitals are full of different germs. Reducing the germs a medically complex child is exposed to is extremely beneficial to their overall health and wellbeing. Their immune system may be compromised and not having to leave their home eliminates unnecessary germ exposure. COVID-19 is something we are currently faced with, making it increasingly imperative for those whose immune systems are compromised to stay home.
The child will be able to focus and stay on task much more so than being at a therapy center.
When you take them out of their environment, they tend to be curious and distracted, taking away from their therapy. Having someone come to your child, may also reduce some of the anxiety that your child may have about going to a new place and being around people they do not know. For many children out-patient therapy is a great option, however, for some children it can be much more of a challenge and take longer to get through the process.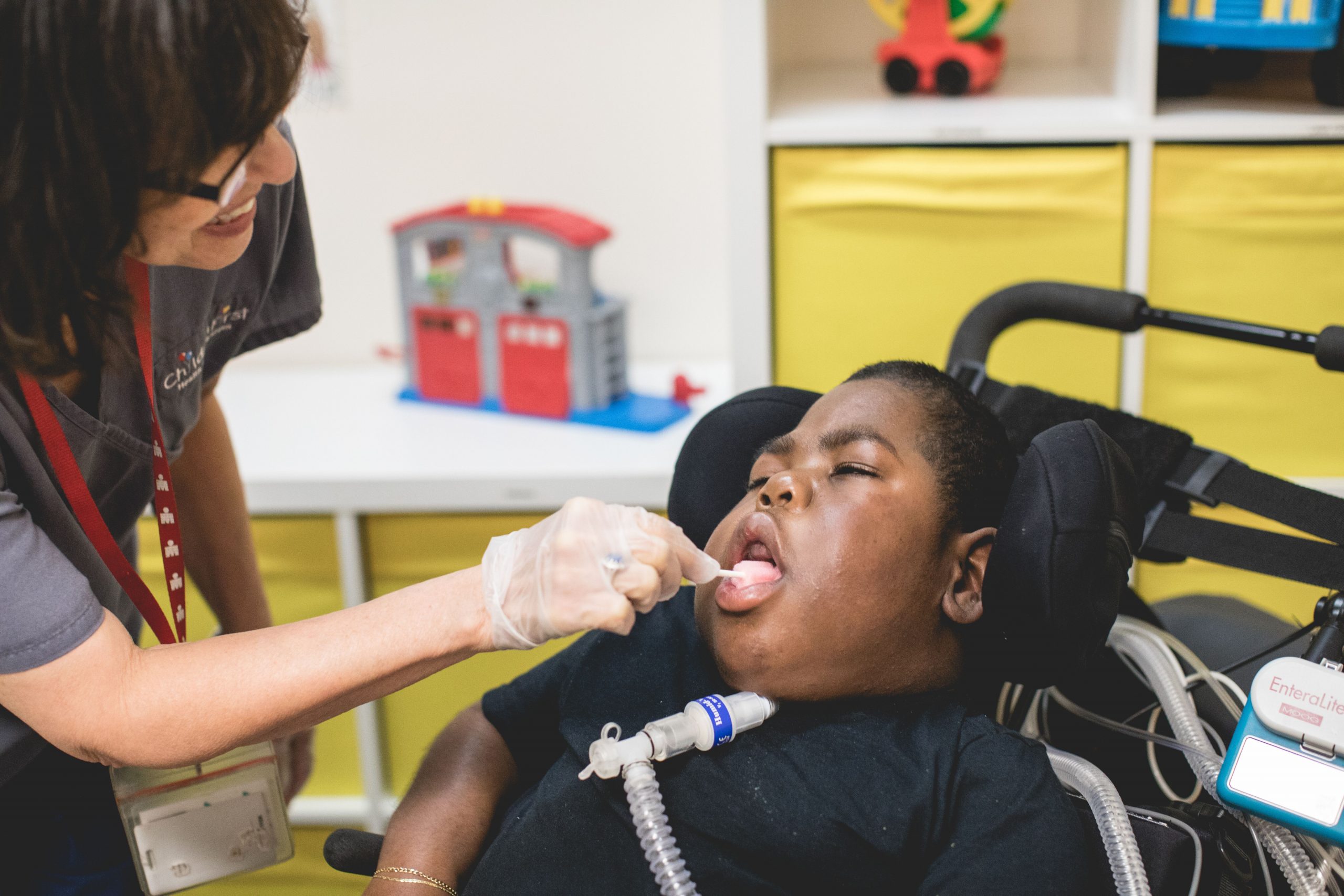 Medical Conditions that would Benefit from Private Nursing
Does your child require access to a pediatric care giver who is specialized as a licensed nurse, physical therapist, occupational therapist, speech or respiratory therapist? Finding one who is compassionate and experienced with the latest and most advanced equipment can be crucial to a medical fragile child's needs. Some illnesses that would benefit from in-home nursing are:
Complications of Prematurity
Spina Bifida
Neuromuscular Diseases
Seizure Disorders
Acute/Chronic Respiratory Disease
HIV/AIDS
Cystic Fibrosis
Congenital Heart Defects
Transplants
Renal Diseases
Traumatic Injuries
Spinal Cord Injuries
Congenital Abnormalities
Developmental Delay
Down's Syndrome
Cerebral Palsy
Hypoxic Brain Injury
Intellectual Disabilities
Near Drown
Cancer
And more
Medical Conditions that would Benefit from In-Home Therapy
If your child requires therapy, in-home therapy may be the perfect fit. Not having to shuffle your child out and about in weather extremes like the hot and humid summers we have here in Florida is a game changer. Specialized services offered for in-home therapy will benefit your child greatly. Some of the medical conditions your child may have could be but not limited to:
Autism
Developmental Delay
Complications of Prematurity
Cerebral Palsy
Spina Bifida
ADD/ADHD
Sensory Dysfunction
Asperger's Syndrome
Down Syndrome
Genetic Disorders
Torticollis
Hemiplegia
Pervasive Development Disorder
Traumatic Injuries
Dysgraphia/Dyspraxia
Hypotoma
Intellectual Disabilities
Prader-Willi Syndrome
And more….
Pediatric Private Duty Nursing & In-Home Therapies in Central Florida
ChildrenFirst provides individualized pediatric private duty nursing and in-home therapy services throughout the greater Central Florida area. Our skilled private duty nurses provide up to 24 hours a day, 7 days a week care for medically fragile and medically complex newborns, infants, children and adolescents to 21 years of age in their home. Our specialized, pediatric caregivers include registered nurses (RN), licensed practical nurses (LPN), physical therapists (PT), occupational therapists (OT), speech therapists (ST), and respiratory therapists (RT).
We are exceptionally proud of the capability we have to care for infants with complex or unusually severe conditions. ChildrenFirst is recognized by area children's hospitals as the leading provider of post-hospital neonatal care. Our array of advanced equipment and sophisticated services allows us to do so. Once your infant is stabilized and discharged from the hospital, we can help you meet their needs at home.  We are highly experienced in transitioning medically complex premature infants from hospital to home.
Here at ChildrenFirst, Giving your medically fragile child the best chance of improving their quality of life is something we pride ourselves on. Seeing your child struggle with their health is a very emotional process and you should not go through it alone. Take the stress off yourself, and most importantly your child. Removing them from situations that are germ ridden will allow them to build their immune system giving them their best chance at life. Private duty nursing and in-home therapy also takes away the distractions of public therapy centers so they can focus on their growth. Feel confident in your decisions and know that when you use in-home help, your giving your child an amazing gift and chance at life. Our special skills and care are able to provide an invaluable resource for your family at home with your child.
ChildrenFirst: Pediatric Private Nursing & In-Home Therapy
As Central Florida's most trusted name in pediatric health care for medically complex and medically fragile infants and children we know how life-giving private nursing and in- home therapy can be. We would love to help your child with their transition home from the hospital as well and their continued care and therapy at home. Our staff believes, quality changes lives. Contact us today, we can't wait to meet you and your family!