Pediatric Outpatient Therapies: Physical, Occupational & Speech
Many times, children who encounter limitations due to complex medical conditions, or illness, require pediatric outpatient therapies. The most common pediatric outpatient therapies are: pediatric physical therapy (PT),  pediatric occupational therapy (OT), and pediatric speech therapy (ST or SLP.) It's not uncommon for children who require one of these therapies to require all three of these of them.
Pediatric outpatient therapies are designed to feel like play to a child, and is typically very effective. They build on skills as they are developed. The ultimate goal for all of them are to improve your child's quality of life.
What is Pediatric Physical Therapy?
Pediatric physical therapy (PT) is used to assist children in reaching their highest gross motor skills and mobility potential. The goal of physical therapy is to help children become as independent as possible with regards to their medical limits. There is a heavy focus on improving a child's development, restoring function and preventing disability from pediatric conditions, illness or injury.
During PT, a physical therapist will evaluate the child, then formulate an intervention that works with the child and their family. When determining an intervention your therapist will consult with the child's other medical, educational, developmental, and rehabilitation specialists. Treatment techniques will help your child move, reduce pain, restore function and prevent disability.
Areas and medically complex conditions that benefit from pediatric physical therapy are:
Movement and mobility
Balance and coordination
Gross motor skill development
Strength and endurance
Equipment design, fabrication, and fitting
Environmental modifications
Developmental delay
Cerebral Palsy
Down Syndrome
Autism
And more…
What is Pediatric Occupational Therapy?
Pediatric occupational therapy (OT) is used in evaluating and treating fine motor, visual processing, self-help, sensory processing, motor coordination, cognitive and social skills. The goal of occupational therapy is to improve the daily function of tasks in your child's life. Occupational therapists work one on one with your child to encourage development in skills needed for daily activities. They strive to help your child achieve functional independence in these skills and activities.
During OT, the therapist will focus on the progression of developmental skills. They will also work closely with the child's other medical, educational, developmental, and rehabilitation specialists.
Areas and medically complex conditions that benefit from pediatric occupational therapy are:
Sensory processing disorders
Play and socialization
Fine motor skill development
Self care
Environmental modifications
Developmental delay
Autism
Down Syndrome
Cerebral Palsy
And more…
What is the Difference Between Pediatric Physical Therapy & Pediatric Occupational Therapy?
Pediatric PT and pediatric OT may seem very similar in the fact that they both help to improve your child's quality of life. However, the areas they help with are different. Pediatric PT helps with gross motor skills (large-muscle movements made with the arms, legs, feet, or entire body), pain, strength, joint range of motion, and endurance. Pediatric OT helps with fine motor skills (small-muscle movements made with the hands, fingers, and toes, such as grasping), visual-perceptual skills, cognitive skills, and sensory-processing problems.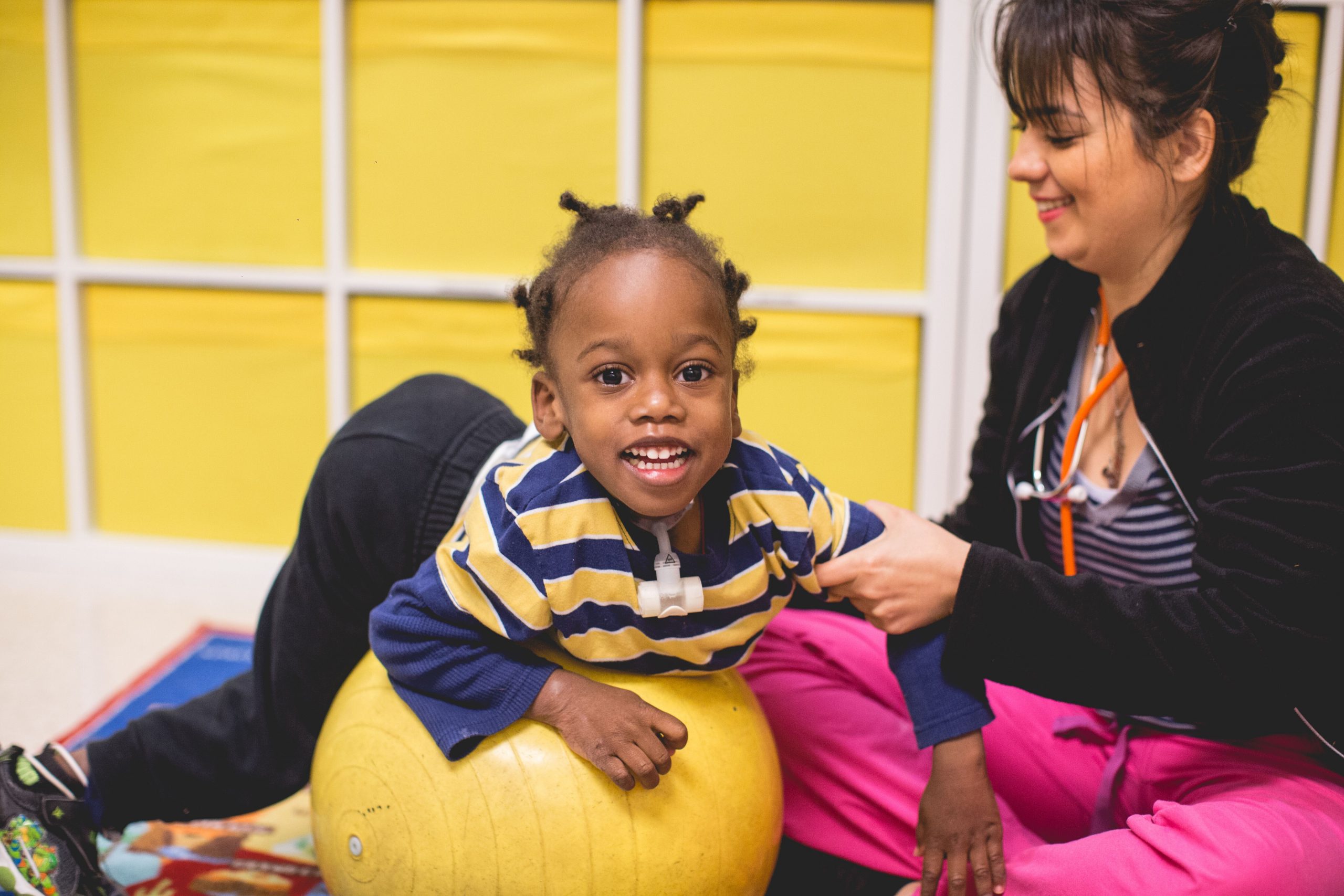 What is Pediatric Speech Therapy?
Speech Therapists (ST or SLP) specialize in evaluating and treating speech, language, oral motor and feeding disorders. The goal of speech therapy is to develop your child's receptive and expressive language, articulation and social skills. It's used to improve your child's communication skills both verbally and non-verbally.
Areas and medically complex conditions that benefit from pediatric speech therapy are:
Receptive language delay
Expressive language delay
Pragmatic language delay
Swallowing difficulties
Feeding difficulties
Oral-motor skill development
Social skills delays
Autism
Down Syndrome
Cleft Lip/Palate
Genetic disorders
Where Does Your Child Receive Pediatric Physical Therapy, Occupational Therapy & Speech Therapy?
Luckily with how often your child may be seeing their physical therapist, occupational therapist, and speech therapist, therapy can take place in their own environment. All of these therapists come into your child's natural environment whether it's their school, your home, a medical day care, or any other place they are regularly.
Who Pays for Pediatric Physical Therapy, Occupational Therapy & Speech Therapy?
These specialized therapies are covered by Medicaid, Medicaid HMOs, CMS Network and most commercial insurances. Our knowledgeable staff will handle all of the paperwork requirements and process your child's admission, stress free for you and your family.
5 Tips to Ensure Your Child's Pediatric Outpatient Therapies are Effective for Them and Your Family!
Stay frequent with your child's therapies – after your child's initial evaluation and a treatment plan is created, you must stick to it. These types of therapies typically require multiple sessions per week. While this can seem overwhelming, children who participate in therapy more frequently than others have a higher therapy success rate.
Become educated as a parent/caregiver – all of the medical terms and explanations are enough to make your head spin. It's important that as a parent/caregiver you learn as much as you can about the therapies your child is receiving. This will help you to understand the process, as well as implement the strategies on your own.
Make therapy a positive experience – Children are more inclined to participate in activities they enjoy. As their parent/caregiver do your best to talk positively about your child's therapies. Hype them up a bit. Get them excited about learning new things and becoming stronger!
Participate – While you might not be able to participate during your child's actual therapy session, you can afterwards. Make sure you are doing things that compliment your their therapy throughout the day. Ask their therapist for some suggestions, more than likely they will give you some after each session.
Involve everyone – whether it's siblings, grandparents, or the neighbor, get everyone who's a big part of your child's life involved in encouraging your child. The more people who are encouraging your child and getting excited over their progress the better. This is super simple, just ask people you're typically around to comment when they notice your child has learned something new or they see them trying something new. Positive feedback is HUGE for your child!
ChildrenFirst Provides Exceptional Pediatric Outpatient Therapy Services
ChildrenFirst provides a full range of pediatric Physical (PT), Occupational (OT), and Speech (ST or SLP) therapies for medically fragile infants and children in Central Florida. We provide specialized therapies designed to optimize the development of each child's independence while helping them reach their full potential.
Our team consists of experienced pediatric rehabilitation therapists, including physical (PT), occupational (OT) and speech (ST or SLP) Therapists, as well as certified therapy assistants. This allows us to ensure your child is functioning at their highest level, meeting developmental milestones and interacting with familiar activities as fully as possible. Our success with your child is partially due to using the latest and most up to date techniques.
Your child will be evaluated through a comprehensive screening and evaluation. We then use the results to design a unique therapy program tailored to your child's needs.
Here at ChildrenFirst we welcome all children from newborn to age 21. Our skilled therapists are able to see your child at home, school, or day care. We also have the option for your child to be seen at one of our convenient therapy gym locations. If you're looking for Physical (PT), Occupational (OT) and/or Speech (ST or SLP) therapies contact us today! We look forward to working with your family!