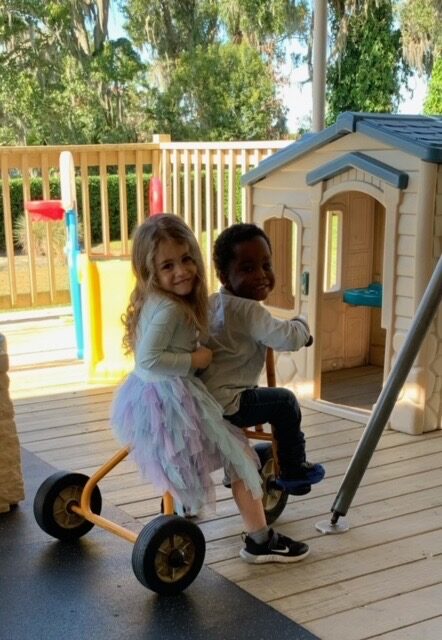 Medically Complex vs. Medically Fragile. What is the Difference?
January 12, 2023
ChildrenFirst, Where Quality Changes Lives
February 10, 2023
At-Home Activities for Medically Complex Kids
At-home activities are a must for any child. If your child has complex medical needs, those activities just may look a little different. At ChildrenFirst, we strive to provide helpful tips and resources for parents and caregivers of children with medically complex needs. Getting out into the community is essential, but sometimes it's nice to take a break from packing a medical emergency bag, remember the Eppie pen, and research safety protocols. That's why we have compiled a list of activities you can sprinkle throughout your time at home to keep your child engaged, entertained, and exploring the world around them, all from the comfort of your own HOME. Take a break from the outside world and enjoy all your home has to offer you and your child.
Always consult with your child's doctor before participating in activities that are questionable for your child's safety. Consider any adjustments and modifications that can be made to increase security for your child and meet their needs. 
At-Home Activities for Medically Complex Kids (Outside)
There is nothing like being a kid and feeling the freedom of the warm summer breeze sweeping your face. Lying in the grass and looking up as the trees dance beneath the sky somehow evaporates all the worries of today. Not even to mention exploring the puddles left after a night of thunderstorms and rain. 
Outside activities are a great way to keep your child engaged. Being outside has been proven to improve the quality of life and help support happy and healthier lives. There are so many factors to consider when it comes to the outdoors and your medically complex child. First and foremost, their health and safety. The great news is that there are so many modifications and adjustments that you can make to ensure your child's safety while still providing them the same opportunities as their peers.
6 Outside Activities You and Your Child Can Enjoy
1. Plant a garden
Vegetables or flowers, you decide! Is your child sensory seeking? Digging and exploring in the dirt provides lots of opportunities for sensory stimulation and is a fun way to learn about plants and how they grow. Maybe even make a mud pie or two! 
2. Cloud gazing
This activity cultivates the imagination. It's so much fun to slow down and spend time exploring the sky and deciding what figure each cloud is shaped like. For children in wheelchairs, this activity allows them to take a break from their chairs and enjoy lying on the grass or a trampoline.
You can even take this activity a fun step further and enjoy the sensory play by using shaving cream to recreate the clouds you see. Spray a little shaving cream on the trampoline or in a small bucket, and have fun! Shaving cream paint is a great way to encourage non-verbal children to communicate what they see and share their ideas. It also makes for easy clean-up, which is always a plus for parents and caregivers. 
3. Bug hunting
Whether you hike around your backyard, down your block, or stay put on your porch, bug hunting is sure to be a fun activity for your child. The bugs are ready for a fun game of hide and seek. They are waiting to be found under rocks, flower pots, and clinging to the bottom of leaves. 
4. Read books
Books are always a go-to activity for all kids. Why not bring the activity outside for a change of scenery and fresh air? 
5. Picnic
You don't always have to pack up and find a park for a picnic. Backyard picnics are some of the best. A picnic could also provide a fun opportunity for trying new foods for kids with food aversions or difficulties trying new textures. After all, everything is more exciting and fun outside! 
6. Water play
Sometimes it's hot hot hot outside! Cooling off in the water is at times, a must. Water play with a medically complex child can sometimes be tricky. Again, always consult with a doctor to make sure activities are safe for your child, and proper modifications and adjustments are made. When being in the water isn't an option, inflatable splash pads can make a great alternative, as well as water tables. Ports, feeding tubes, and central lines can make outdoor water play more difficult. Always remember to adequately cover any areas to prevent water from reaching where it shouldn't and prevent infections.
However, pools and splash pads aren't the only way to enjoy the water. If safety doesn't allow for traditional methods of water play, consider activities such as watering the grass with a fun spray nozzle and spraying water for the dogs to run through. Filling a spray bottle with water and chalk is a fantastic way to improve hand strength, motor planning, and fine motor skills while having fun. Spray it on the cement to create fun patterns and mix colors. The possibilities are endless! 
At-Home Activities for Medically Complex Kids (Inside)
Sometimes we have just to beat the heat and stay indoors. Staying inside doesn't mean your child has to be confined to binge-watching their favorite show or playing hours of video games. There are so many activities that your medically complex child can enjoy safely. 
1. Sensory Bins
Sometimes, the mess isn't fun to clean up, but it's worth seeing your child have a blast while stimulating their senses and satisfying their need for sensory exploration. Many sensory bin ideas can be customized for your child's interests. Bins can be as simple or over the top as you'd like. 
2. Ice Painting
This can be done indoors OR outdoors. Ice Painting is a blast and promotes hand-eye coordination and fine motor skills. It's also a fun way to explore colors! All you need is ice cubes, paint or food coloring, and paintbrushes. 
3. Board Games
Board games are a fun way to practice turn-taking and improve communication and social skills. 
4. Coloring
Coloring is an easy and fun go-to activity. There are so many free coloring pages on the internet that provide endless hours of creating together.
5. Baking
Find fun new recipes to try with your child, or stick to the tried and true. You can even take this opportunity to embrace any diet restrictions your child has. Have fun with gluten-free or dairy-free desserts. 
6. Building blocks
Building blocks such as Legos are a classic indoor activity that can be modified to fit any child's needs. They come in all sizes: Mega Blocks, Duplos, and regular Legos. You can choose the size that is right for your child. Have fun creating building challenges. Imagine your world and create it. Have battles with the Minifigures or make a small village. There are so many fun things you can do together while building. 
ChildrenFirst – At-Home Activities for Medically Complex Kids
Whether you're outside or inside while at home, it is a time for children to create lasting childhood memories. Although medically complex children and their caregivers face differences in participating in activities, it doesn't mean the fun has to stop. There are so many opportunities to take advantage of and ways to make adjustments for safety and participation. We hope this list gives you ideas to do at home with your child. And most importantly, make memories!