Central Florida's Best Pediatric Health Care System
ChildrenFirst Health Care System offers specialized care for medically fragile and medically complex children. As Central Florida's most awarded pediatric health care system, we strive to offer the highest quality of care. With over 25 years of experience in the industry. ChildrenFirst Health Care System has become a valued part of Orlando and surrounding communities. We strive to better the lives of each and every child that comes through our doors by providing a wide variety of pediatric health care services.
With unmatched expertise, ChildrenFirst Health Care System is Central Florida's premier home care system. As a one-stop-shop pediatric health care service provider for the most medically fragile of children, ChildrenFirst Health Care System offers a multitude of services. These services include:
Pediatric Nursing
In-Home Therapy
Pediatric Medical Equipment and Supplies
Pediatric Medical Supplies
Enteral Nutrition
Outpatient Physical, Occupational, and Speech Therapy
Transitional Discharge Coordination
Respiratory Therapy Services
Prescribed Pediatric Medical Daycare Centers
Community Residential Medical Group Homes
and more…
Meet Co-Founder Donna Loggie
Donna Loggie, co-founder and co-owner of ChildrenFirst, assisted in bringing to life a much needed health care system specifically for children with complex medical needs. Donna has directed the organization's day-to-day business operations since 1994. Her responsibilities include overseeing a team of business managers, five separate divisions, and over 150 office support staff. Donna's vision and dedication have helped cultivate ChildrenFirst to the multidisciplinary specialty model that it is today.
Meet Co-Founder Marie Schiavi
Marie Schiavi has been in the healthcare industry since 1975. She had a hand in turning Orange Memorial Hospital into a five-bed pediatric ICU, then expanding it to 10 beds, finally transforming it to what is now known as Arnold Palmer and Winnie Palmer Hospital. In addition to being an RN, Marie is co-founder, president, and CEO of ChildrenFirst. Since 1994, Marie has overseen and directed the clinical operations of ChildrenFirst. She oversees three clinical divisions, a team of RN Clinical Case Managers, and a field staff of more than 20 CNAs, RNs, and LPNs. With her dedication and support, ChildrenFirst now operates as Central Florida's top pediatric health care system for medically complex infants and children.
Our Mission
ChildrenFirst Health Care System's mission is simple: "Quality Changes Lives." As dedicated providers, the highest quality of care is provided with compassion to every infant, child and young adult served. In order to fulfill our mission, ChildrenFirst Health Care System focuses on the unique needs of both patients and their families. We believe it's imperative to treat all of our patients and their families with respect and actively work to educate families to be active participants in their child's medical care.
At ChildrenFirst, it is our goal to help children live their healthiest lives possible. Through our integrated health care system, we provide innovative care and important medical supplies throughout our service channels. Services such as in-home nursing and therapy, specialty medical equipment and supplies. Medical daycare centers, and group homes provide families with the help and support that their medically complex child may need.
ChildrenFirst's core services include:
Prescribed Pediatric Extended Care (PPEC)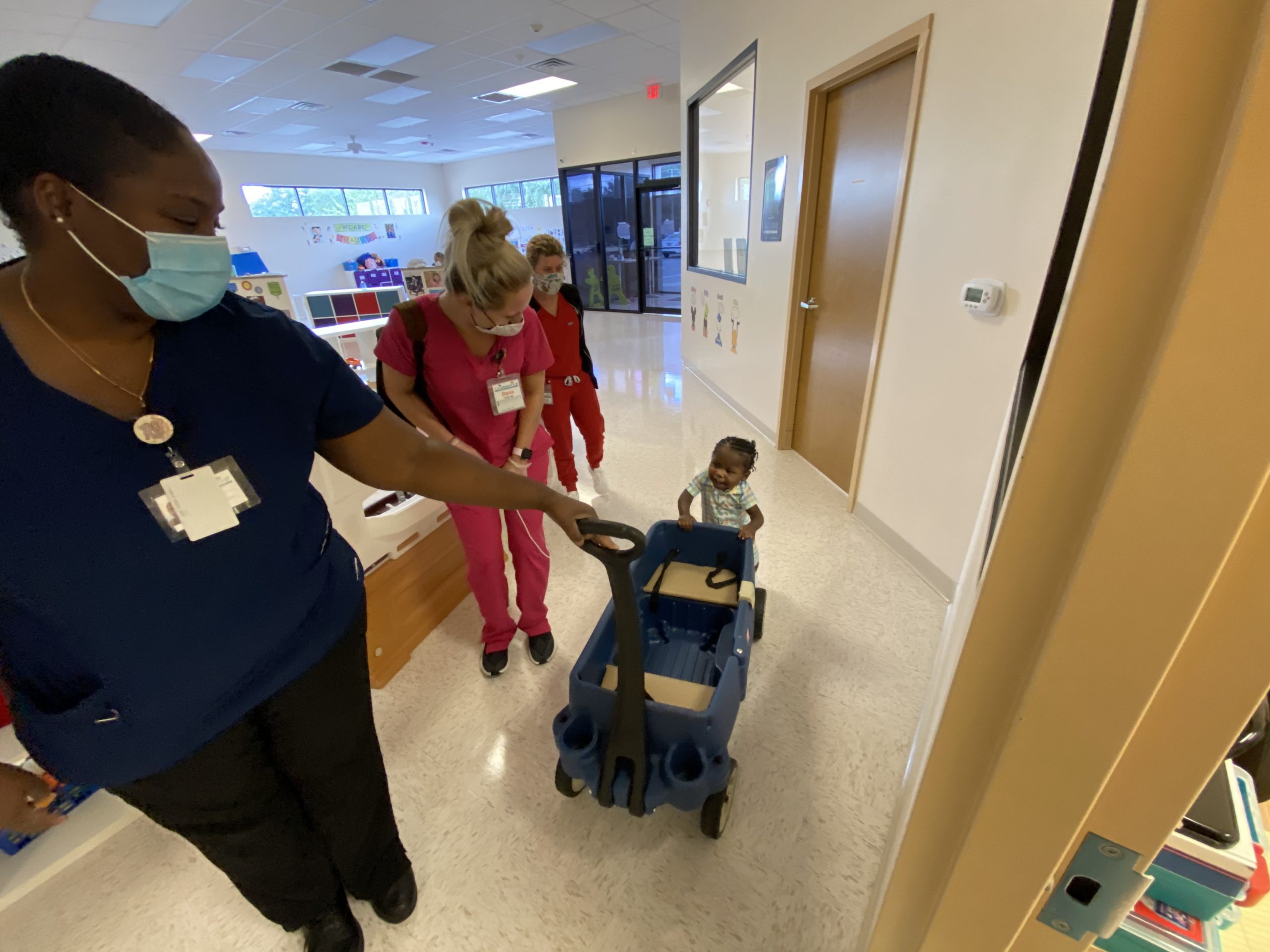 Children with complex medical conditions typically require a more advanced form of care apart from traditional daycare. Medical daycare, also referred to as Prescribed Pediatric Extended Care (PPEC), is an option that many parents choose to explore. Here at ChildrenFirst, we pride ourselves on our award-winning PPEC centers and work hard to ensure top quality care for all of our patients and their families
At ChildrenFirst, we offer daily care that includes therapy services, educational activities, and clinical interventions. Each of these services have been designed specifically with medically complex infants and children in mind. Our PPEC centers serve as a home away from home for pediatric patients and are filled with loving and dedicated staff. Our PPECs are the only centers in the United States that have been awarded the National Association for the Education of Young Children (NAEYC) accreditation.
Prior to enrollment, your child's specific needs will be assessed, and a care plan will be created alongside your child's physician in order to ensure appropriate care. Once enrolled, parents or caretakers will receive daily updates informing them of what transpired throughout their child's day. These updates will include what therapies were received and what developmental and educational activities took place. Personal conferences are also scheduled to discuss the child's progression of their goals throughout the year. To learn more about choosing the right PPEC for you child click here.
Pediatric Durable Medical Equipment, Supply and Enteral Nutrition
Children's Home Medical Equipment, Inc. is a division of the ChildrenFirst Health Care System. This service is staffed by Registered Nurses, Certified Technicians, Patient Service Representatives, and Respiratory Therapists. Our large inventory range offers the newest technology in advanced respiratory equipment. ChildrenFirst's pediatric home medical equipment and supplies serves a wide variety of sizes and ages, from premature infants to those entering young adulthood.
ChildrenFirst also carries a large supply of equipment for children's enteral feeding needs. This includes feeding pumps, g-tubes, enteral formulas and more. Other supplies available are wheelchairs, walkers, nebulizers, sophisticated home ventilators, and more. Children's Home Medical Equipment, Inc. offers 24/7 on-call services for any questions or concerns regarding your medical equipment, supplies or nutrition.  After hours services are also provided.
In-Home and Outpatient Therapy
Therapy is vital for children with complex medical conditions. It promotes and encourages growth and development. ChildrenFirst provides a full range of pediatric in-home and outpatient therapies. ChildrenFirst Therapy Services, Inc provides services to infants and children around the Central Florida area. We offer physical, occupational and speech therapies specially designed to optimize each child's development and independence.
Our uniquely designed therapy programs are tailored to each individual child after a comprehensive screening and evaluation to maximize therapeutic goals. The goal of our program is to nurture medically fragile and medically complex children to achieve as much independence as possible in a nurturing way. With our experienced team of pediatric therapists, we help your child to reach developmental milestones while using the latest techniques to maximize the child's functionality. Through our multitude of programs, ChildrenFirst offers both in in-home and outpatient therapy. As a medically complex child's needs vary, so do our services. ChildrenFirst therapists are available to perform in-home appointments or in one of our many facilities across Central Florida. Here at ChildrenFirst, we go above and beyond to meet your family's needs.
Pediatric Medical Group Homes
Pediatric Pavilion, Inc. offers community-based residential group homes for fragile and medically complex children. These homes provide transitional care during the child's transition from the hospital to their home. The goal is to prevent readmission to the hospital while at one of our medical group homes. ChildrenFirst Pediatric Pavilion's transitional care provides medically complex children with the support and technology needed to keep their health improving before they are ready to make the journey home. Here are some common reasons why an infant or child would be admitted to a medical group home for transitional care:
Ventilation support
Organ transplant surgery recovery
Advanced cancers
Traumatic brain injury
Near-drowning
Spina Bifida
Tracheostomy
Complex therapies
Other complex medical conditions
Depending on the patient's plan and how quickly they progress, those admitted to the Pediatric Pavilion are normally discharged within a year or two of intensive clinical management. However, we also provide long-term care options for patients whose families are unable to care for them due to age, physical, or residential limitations. Our team respects the uniqueness of each child and performs their roles with the utmost of compassion and care. We currently have 12 medical group homes throughout Central Florida and our patients range from infants to over twenty-one years of age. Four of our homes are specifically suited for neonatal patients, children from infancy to five years of age.
Pediatric Private-Duty Nursing
As Central Florida's leading provider of Pediatric Private-Duty Nursing, our staff includes both registered nurses and licensed pediatric nurses. We provide individualized care to each and every child we treat. Our team at ChildrenFirst Health Care System uses the most advanced and high-tech equipment in order to offer specialized care, especially for those that are technology dependent. Patients come to us with a wide range of medical needs and we do our best to carer to their specific requirements.
Most services we provide are covered by commercial insurances, Medicaid, Medicaid HMO's, or the CMS Network. Our highly trained staff will handle all paperwork, enabling a stress-free admission for both the patient and family. Having a medically fragile child comes with unique challenges and ChildrenFirst is here to help minimize what stress we can related to their medical care.
Locations
With five convenient locations throughout Central Florida, ChildrenFirst Health Care System offers accredited care and award-winning service. We pride ourselves in being a full-service pediatric health care system. Therapy is offered to clients attending any of our PPEC facilities. Our convenient locations are:
4448 Edgewater Drive, Orlando, FL 32804 | Phone: 407-513-3144
Services: Medical Day Care (PPEC), Durable Medical Equipment, Speech Therapy, Occupational Therapy, Physical Therapy, and Private Duty Nursing
196 South Semoran Boulevard, Orlando, FL 32807 | Phone: 407-823-7732
Services: Medical Day Care (PPEC)
7621 West Colonial Drive, Orlando, FL 32818 | Phone: 407-317-4600
Services: Medical Day Care (PPEC)
3064 Lions Ct, Kissimmee, FL 34744 | Phone: 407-978-6483
Services: Medical Day Care (PPEC)
2120 Saxon Blvd, Suites 201 & 202, Deltona, FL 32725 | Phone: 386-259-9881
Services: Medical Day Care (PPEC)
Employees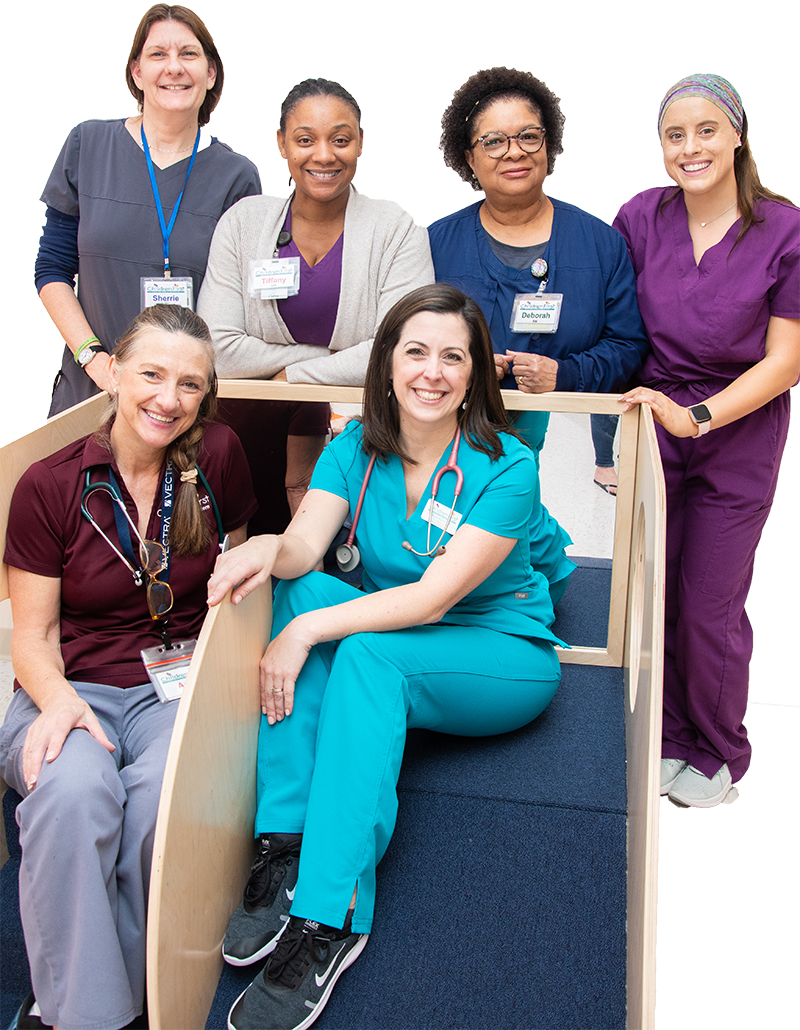 Our team began their careers in health care out of a calling for meaningful employment in which they could make a difference in their community. We are able to provide a full spectrum of pediatric health care for patients because we understand there's an opportunity to improve each and every child's quality of life. Our staff creates a family with our patients, treating the children like they're our own. We show compassion and respect to everyone who comes through our doors.
At ChildrenFirst, your child is not treated like a number, but rather like family. We aim to ensure your child is taken care of an loved every moment while in our care. We began with just three employees and have now progressed to the point we are at with over 50 full-time employees and more than 320 nurses on staff. That being said, our team has had the privilege of providing care to countless patients across Central Florida. With multiple locations, ChildrenFirst is able to care for medically complex and chronically ill pediatric patients around Central Florida. This includes Orange, Osceola, Brevard, Seminole, Lake, Volusia, and Polk counties. ChildrenFirst is a place where children are treated with a caring hand.
ChildrenFirst – Central Florida's Best Pediatric Health Care System
We are Central Florida's BEST pediatric health care system and it is our passion to provide outstanding care to families within our community who have children with complex medical needs. We are here to help you and your family, contact us today!