PPEC: Frequently Asked Questions
December 1, 2021
6 Trach Tips for Parents
October 28, 2022
9 Reasons Feeding Tubes are Awesome
There are many medical conditions that require and/or benefit from a feeding tube. While feeding tubes may initially seem overwhelming, at the end of the day… Feeding tubes are awesome! They supply nutrition, medicines, and liquids directly into the stomach. This is a game-changer for children with complex medical needs that cannot eat or take oral medications.
What is a Feeding Tube?
Feeding tubes are medical devices used to assist in feeding. Some medical conditions make it difficult for children of all ages to safely eat food orally. There are many diverse types of eating challenges. A feeding tube makes it easier for children who have complex medical needs to get the nutrition they need.
During a routine surgery, a tube is inserted into the child's stomach.  A feeding tube can help make a patient stronger and get the food, liquids, and medicines they need.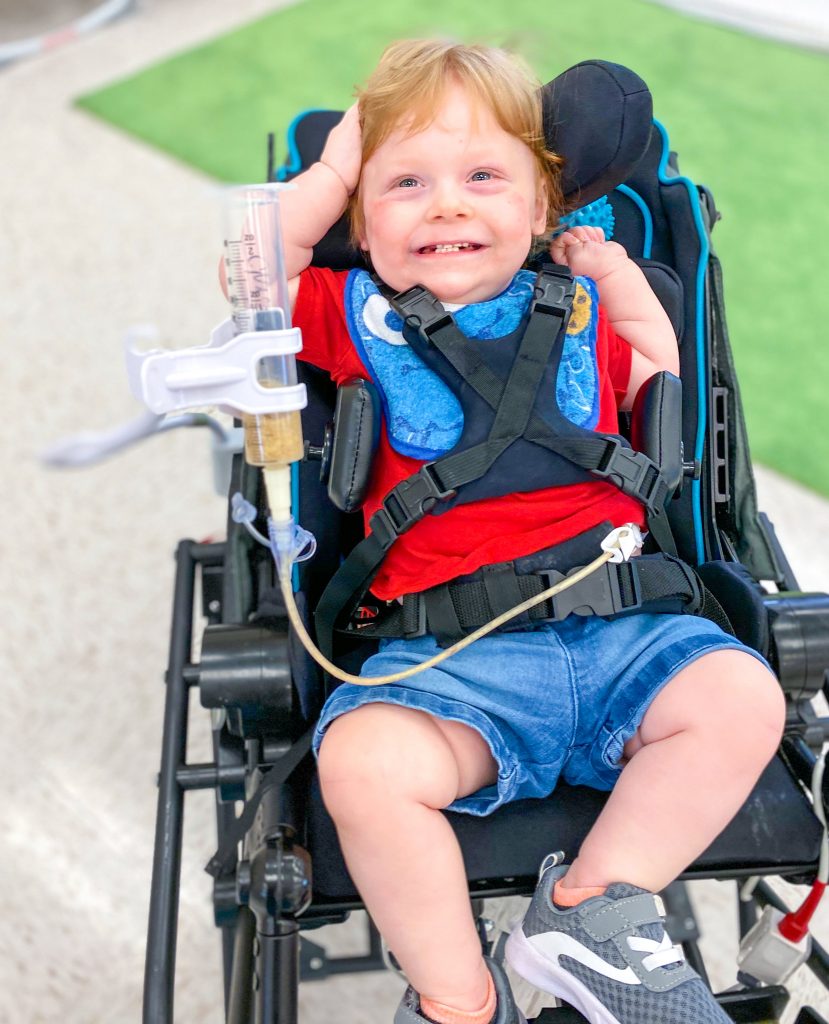 In this article, we break down our top 9 reasons we think feeding tubes are awesome.
1. Less Fighting with Your Child
Children, in general, can be difficult during mealtimes. If you have a child with complex medical needs, mealtimes can seem like a nightmare. Thanks to feeding tubes, there is no need to bribe them to eat or drink something. The use of a feeding tube actually makes feeding times battle-free, which is always a win!
By using a feeding tube, the parent/caregiver is able to ensure that the child is nutritiously fed and gets the hydration they need. When it is time for a meal, feeding with a feeding tube is much more enjoyable for everyone. With a more pleasant meal surrounded by peace instead of arguing, this calmer meal period can even encourage oral eating.
2. Easier to Feed Your Child Special Diets
With special diets, mealtime can quickly become overwhelming. For children with ongoing medical needs who may require special diets, these special diets come in the form of not-so-good-tasting powdered formulas. With a feeding tube, you can wave the challenge of them taking it orally goodbye, and we know what a relief that can be! They receive the nutrition necessary as it goes right down the tube.
3. Feeding Tubes are Small and Easy to Use
With today's modern technology, feeding tubes are much sleeker than those of the past. Previously, doctors used to have to change out the feeding tubes. Today, parents can easily change the tubes themselves. Patients with g-tubes and even sometimes j-tubes can easily hide under clothing, thanks to the buttons now used. Today's feeding tubes are much more manageable than those of the past.
4. Your Child Can Sleep While Getting the Nutrition they Need
The most remarkable thing about feeding tubes are… Your child can eat while they sleep! Some families are given a prescription for feeding where the child may need to eat every 3 to 4 hours, making it a bit hard to normally feed without waking them and bringing them to the kitchen table. The child does not miss a wink of sleep with feeding tubes while getting the nourishment they need to get strong and healthy. While it is still important for your child to learn about eating and drinking, and interacting with food, tube feedings overnight are all about getting nutrition into your child's body.
5. No Fighting to Get Yucky Medicines Down
Have you tried to give your child medicine, and they spit it right out? With medically complex children, sometimes these medicines are imperative to take. There can be no guessing how much medicine the child got down before spitting some of it out. The child does not have to taste any yucky medicine with feeding tubes. The medicine is sure to go down since it goes into the feeding tube and not orally. There is also no fighting just to take medication, let alone to swallow it. Simply place it in the tube and go about your day!
6. Children Can Still Eat Orally While Getting Essential Nutrition Through Their Feeding Tube
Just because your child has a feeding tube does not necessarily mean they can't or will never eat orally ever again. For some kids, it is acceptable to continue eating and drinking orally, even with the feeding tube in. Of course, this depends on your specific situation and if their doctor has okayed it. Many children with feeding tubes eat orally, even if it is just small tastes and sips of things.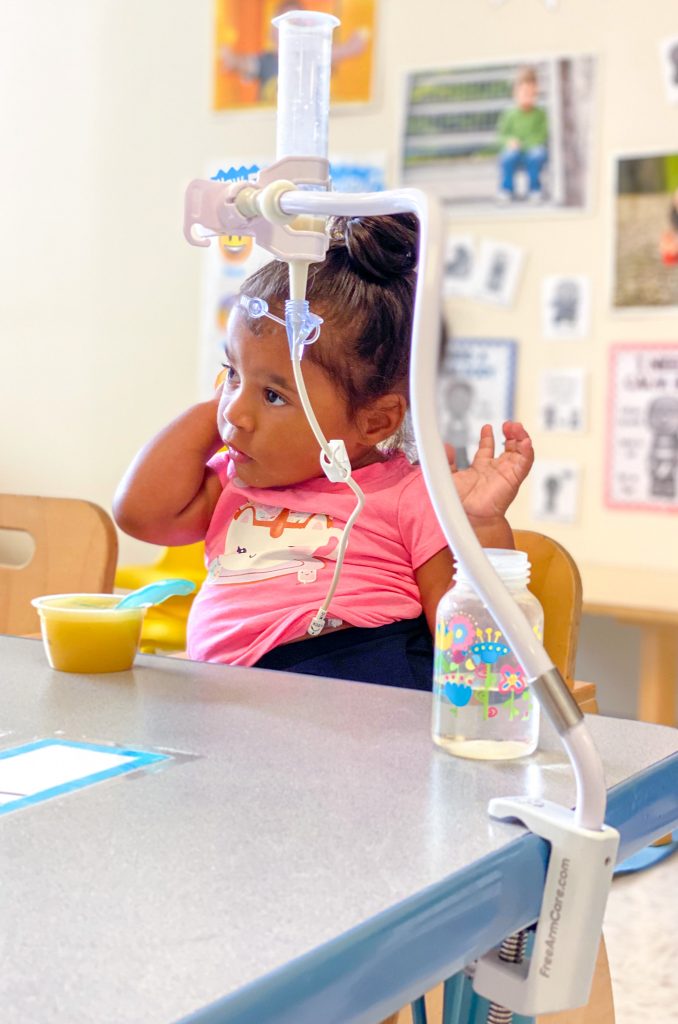 7. Easier to Help a Sick Child Receive the Nutrition and Fluids They Need
When children get sick, it's common for them to not want to eat or drink much. However, it's important they stay hydrated when sick. With the use of a feeding tube, there is no additional worry about your sick child becoming dehydrated. This can even help keep them out of the hospital with a slow drip of an electrolyte solution.
8. Feeding Tubes Can be Used to Release Gas and Bubbles
Did you know that feeding tubes can also be used to release gas bubbles from children? Sometimes gas can be very painful if a child swallows too much air or is a chronic vomiter. Venting the tube can help release air, slowing down the feeds that are backing things up. Getting the extra air out of your child's stomach can make them feel much more comfortable.
9. Super Healthy Nutrition to Help Them Grow
When your child receives the proper nutrition, it helps them thrive. It assists in them gaining the appropriate weight, increasing their energy, and improving their nutritional status. This is thanks to the nutritious diet they are receiving through the feeding tube. Your child's diet is mainly controlled by a feeding tube concerning calories, how hydrated they are, and the proper nutrients they are getting. In turn, they will grow and thrive.
Central Florida's Top Supplier of Enteral Nutrition Products
Children's Home Medical Equipment, Inc. is a full-service pediatric Durable Medical Equipment (DME) provider servicing all of your home medical equipment and enteral nutrition needs. We are specialists in serving the most highly technical, medically complex pediatric patients. We offer Enteral Nutrition Therapy and specialty enteral formulas, including those from Real Food Blends, Nourish, and Kate Farms, that provide specific nutrition for a wide range of medical and dietary needs or tube feeding. Many formulas come in a variety of flavors for a delicious and nutritious experience.
Contact us today for all of your child's enteral nutrition products.
ChildrenFirst – 9 Reasons Feeding Tubes are Awesome
Feeding tubes can sometimes get a bad rap. At ChildrenFirst, we want to shed some positivity on the manner and help bring awareness to the positive side of feeding tubes. While there will always be some sort of struggle, it is always good to look on the bright side and think about all of the pluses feeding tubes bring.
With no fighting over yucky-tasting medicine, no arguments at the dinner table, and overnight feedings made a easy; feeding tubes are really beneficial. It is also easier to help a child that is sick or requires a special diet, while most importantly, your child gets the nutrition they need to grow big and strong and thrive in their surroundings. Feeding tubes are awesome, and we hope you think so too!